Williamsburg Christmas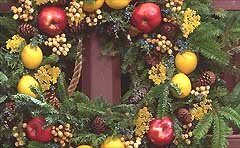 The Williamsburg Christmas celebration is one of the finest in America. Nothing else can match the beauty and excitement of a Christmas in Williamsburg. The decorations and festivities are a great experience.
The practice of placing a single lighted candle in windows of homes was popularized at Colonial Williamsburg. There is even a Christmas in Williamsburg shop online. It offers a variety of decorations, ornaments and publications.
Christmas in Williamsburg Events

Christmas Tree Lighting Ceremony
The lighting of an evergreen at 5:30 pm on Market Square.
Experience a merry Williamsburg Christmas this year. You'll never forget it.